Best Courses after 12th Arts 2023: Many of the students who have passed secondary education or class 10th are hesitate to take admission in Arts stream.
Every year lakhs of students who have passed 12th are in frustration due to their career in future. Most of the students are unable to determine what to do after 12th or what is the best courses after 12th arts in India?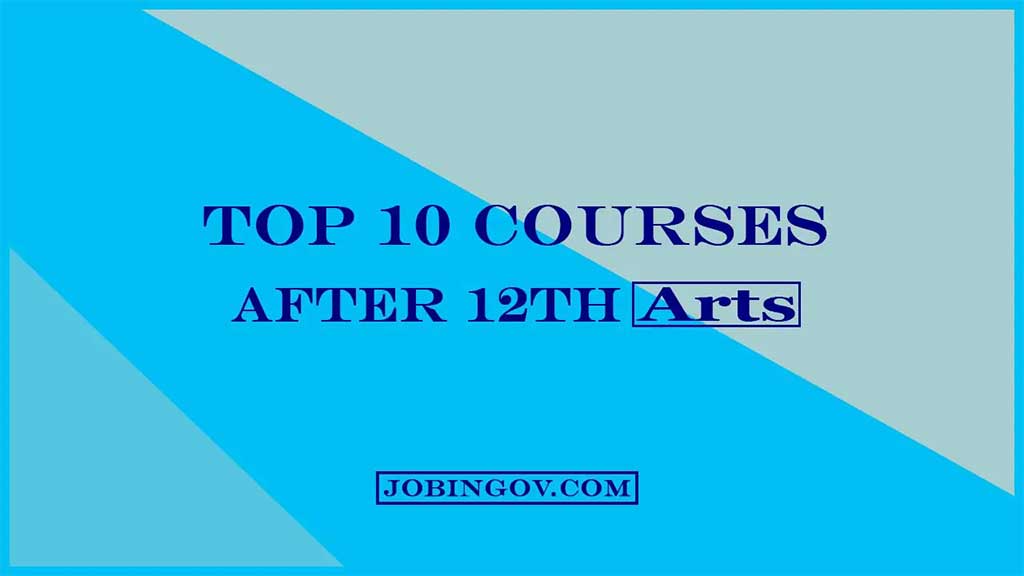 Students who are pursuing in class 12th in arts have lots of options to choose as a career in future. The subjects contain in arts have diversity which makes this field an extensive career. The topics covered in arts are history, social norms, polity, philosophy, visual arts.
After completing higher secondary from arts most of the students think it is easy to prepare for Public Service Commission (PSC) exam because they thought it is very difficult to get any highest paying jobs as they choose wrong courses after 12th arts.
The most popular subjects are History, Geography, Sociology, Economics, Mass Communication, Law, Psychology, Political Science, Language (English, Hindi, Sanskrit, etc.).
Students who are willing to choose arts or completed 12th in arts should have complete knowledge about career options to take right one.
In this article, we have discussed about the career options or courses after 12th arts. After reading this article you will be able to take right options as a career.
Best Courses After 12th Arts in India 2023
Bachelor of Arts (BA)
Bachelor of Arts popularly known as BA is a three year degree course. The subjects available in this course are Psychology, Geography, Economics, History, Archaeology, Journalism, Sociology, Anthropology, Literature, Mass Communication, and Languages (major languages), Environmental Science etc.
In this course, you have to choose an honors subject & some elective subjects with it. You can do specialization in any subject mentioned above to improve your understanding and develop analytical thinking about the subject.
Amount of fee in government colleges is very low around ₹ 4k – ₹ 8k per annum. This amount may vary from state to state.
There are many vacancies released for Govt. jobs every year in different posts.
Also Read: Best Courses After 12th Science
Bachelor of Fine Arts (BFA)
This is a good choice if students choose to pursue fine arts. It would be a good if you have creative thinking. Bachelor of Fine Arts is a three year course that consists Fine Arts, Visual Arts, & Performing Arts. The students can also do specialization in different courses like Film Making, Theatre, Dance, Music, Photography, Creative Writing, etc.
Students who wants to pursue BFA must have creative skills. When you will complete graduation in BFA, you will have a wide range of scope such as Creative Writers, Art Director, Musician, Teacher/Professors & many more.
After 12th in arts you can apply for BFA in government colleges as well as in private institutions. Government colleges offered comparatively lower fees around ₹ 4k – ₹ 6k compared to private institutions which charge around ₹ 15k – ₹ 35k per annum.
Bachelor of Business Administration (BBA)
Students who have passed 12th in arts and are business minded can choose BBA as their career. There are so many students who takes admission in BBA for bachelor degree.
The most interesting thing of this course is that students from any stream such as Arts, Commerce and Science can do their bachelor degree in BBA.
It takes 3 years to complete BBA and gives you opportunities to work in different sectors like Sales, Marketing, Finance, Education, Hospitality, etc. After completing BBA if you wish you may pursue MBA (Master of Business Administration).
Fees varies from college to college depending on some factors like – college infrastructure, college rating, status of scholarship of students, placement record etc.
Most of the private institutions charged ₹ 80k – ₹ 150k per annum. There are some government colleges which offered BBA with competitively low tuition fees.
Also Read: Best Courses After 12th Commerce in India
Integrated Law course (BA + LLB)
As the meaning of the course indicates, it is a combination of two full fledge courses one is Bachelor of Arts and other one is Bachelor of Legislative Law (L.L.B.). Examination is taken in this course semester-wise that means you have to pass semesters in 5 years.
It is a good opportunity for you that you can get dual degree under one academic curriculum. It is one of the best course who have passed 12th in arts and want to make career in law. To pursue, students must pass with a minimum of 55%.
The syllabus of this course is curved in such a way so that the subjects of two courses complements each other. This course covers a wide range of subjects of humanities such as sociology, economics, history etc. and also the core subjects viz. Torts, Contract, Company Law, Environmental Law, etc.
To have LLB degree, you need to complete a bachelor's degree. After having completed this integrated law course you try for the Bar Council of India exam to get professional license to practice law.
The top most colleges of LLB are charged around ₹ 60k – ₹ 140k per annum. There are also some Govt. colleges which offered LLB with significantly low fees around ₹ 6k – ₹ 12K per annum.
Bachelor of Journalism and Mass Communication (BJM)
It is one of the good opportunity for the students who still unable to decide their career. Bachelor of Journalism and Mass Communication has six semesters in 3 years. In the field of mass communication students have very high career opportunities.
To do bachelor's degree in BJMC, you should have minimum 50% in the 12th board exam. Successful candidates of BJMC can choose their working area in advertising agencies, broadcast companies, public relation firms, news agencies, TV channels, photography organizations, newspapers, radio telecast companies, journals etc.
To extend your working areas and employment opportunities, you can pursue master degree in journalism and mass communication.
Charges in private institutions is around ₹ 40k – ₹ 90K per annum which is competitively higher than government colleges. For the same course Govt. colleges charged only ₹ 7k – ₹ 15K per annum.
Bachelor of Fashion Design (BFD)
The students who have knack fashion design can think of Bachelor of Fashion Design (BFD). It is one of the preferable course for the 12th passed students. This course may of three or four years and it is depended on the institutions.
To be eligible for this course, you must have at least 50% in class 12. You can take admission for this course through entrance exam or qualifying examination.
This course gives more emphasis to improve communication skills along with entrepreneurial abilities. During this course, students become able to understand world fashion, creativity aspects, fashion sensitivity etc. After completing BFC you can have opportunities to do work in Fashion Designer, Costume Designer, Fashion Consultant, Fashion Stylist, Trend Forecaster, Personal Stylist, etc.
It is private college which will charge around ₹ 60k – ₹ 120K per annum. But you can also do diploma in Fashion Design which costs ₹ 30k – ₹ 60K per annum.
Bachelor of Computer Application (BCA)
Many of students think that to get admission in Bachelor of Computer Application, you must have been passed 12th with Physics, Chemistry and Math. Actually, any student wants to do BCA, they have to pass 12th in any stream with 45%-55% which varies college to college.
After taking this course you will be connected with the word of computer languages. Here, you will learn the application of computer.
Through this course you will able to learn database management systems, operating systems, software engineering, computer architecture, web technology and languages such as C, C++, HTML, Java etc. After BCA you can join as a Software Developer, Technical Analyst, System Administrators, Programmer, Tech support and many more.
After BCA, you can continue with computer application & complete masters that is MCA. You can plan preparation for CAT or apply for MBA in IT Management. You will have also options for networking diploma, CCNP or CCNA.
Generally, to do bachelor degree in computer application, private institutions charged ₹ 70k – ₹ 120K per annum.
BSc in Hospitality & Travel
This is an ideal course for those who has interest to boost customer services, tourism and other related services. In this 3 year course students learn how to work in catering and accommodation along with good managerial skills in hospitality and tourism respectively.
For this course, you should have a minimum of 60% marks in higher secondary or 12th board exam. Having BSc in Hospitality and Travel, you will have employment areas like Colleges & Universities, Tour Companies, Tourism Infrastructure Project Companies, Retailing, Transportation & Travel Agencies etc.
For BSc in Hospitality & Tourism, ₹ 80k – ₹ 120K will be the charge in private institutions yearly basis.
Also Read: Best Government Jobs for Female
BA in Animation
In this course focus are mainly on the medium, form, & content of animated storytelling. It is a very vast field. Bachelor as well as Diploma degree is also available which are 3 to 4 years and 1 to 2 years respectively. Through this course you will be able to represent thoughts, analyzing information and explain the matters.
You can get jobs in the art world or also outside it. The positions you will get are illustrators, character animators, & game artists etc. You can also work as medical equipment designer, to police or courtroom artist. You need minimum 55% to get admission in this course.
Total course fees vary from ₹ 1 lakh to ₹ 5 lakhs in different colleges. For diploma in BA Animation you have to pay ₹ 30k – ₹ 60K per annum.
Event Management
Nowadays, events are very common to our daily life like music, sports, television, politics, and others.
We arrange events to invite or get involved of our major happenings. While pursuing this course you improve your necessary skills in different skills like event bidding, project planning, financial reporting and marketing for events.
The recruitment is very high for event managers. You need at least 50% to pursue this course. The duration of this course is 3 years. For bachelor degree of event management your expenditure will be ₹ 60k – ₹ 120K per annum and for diploma in event management it will be ₹ 30k – ₹ 80K per annum.
Also Read: How to Prepare for Govt Exams?
Conclusion
Hopefully this article will help to choose best courses after 12th arts. If you like this post, share with your friends. Also, you can follow us on Facebook for any latest update.
Frequently Asked Questions
Q1. I am presently pursuing 12th in arts. Which will be the best course for me after 12th?
Ans: There are lots of courses available after class 12th in arts and it is really a tough work to name any particular course. Here, we have provided some courses names Bachelor of Fashion Design (BFD), Bachelor of Journalism and Mass Communication (BJM), Event Management, Bachelor of Business Administration (BBA), etc.
Q2. How can I choose a good subject for me as a career?
Ans: You are able to select a subject which is preferable for you as career. Before choosing, think about some factors such as – your interest in different subjects, your passion about subjects.
Q3. From which course I can get highest salary?
Ans: Your salary depends on your knowledge, talent, performance, creativity. If you are perfect in your work, then you will get a decent amount of money.
Q4. Is percentage of 12th class a matter of factor?
Ans: Yes, different courses offer different percentage to get admission. So, take care of your marks in class 12th.