If you want to prepare for government exams, than this article is for you. Here we provides some important steps which will help you to crack government exams.
Every year various government organizations conducts examination to recruit candidates for different posts according to their requirement.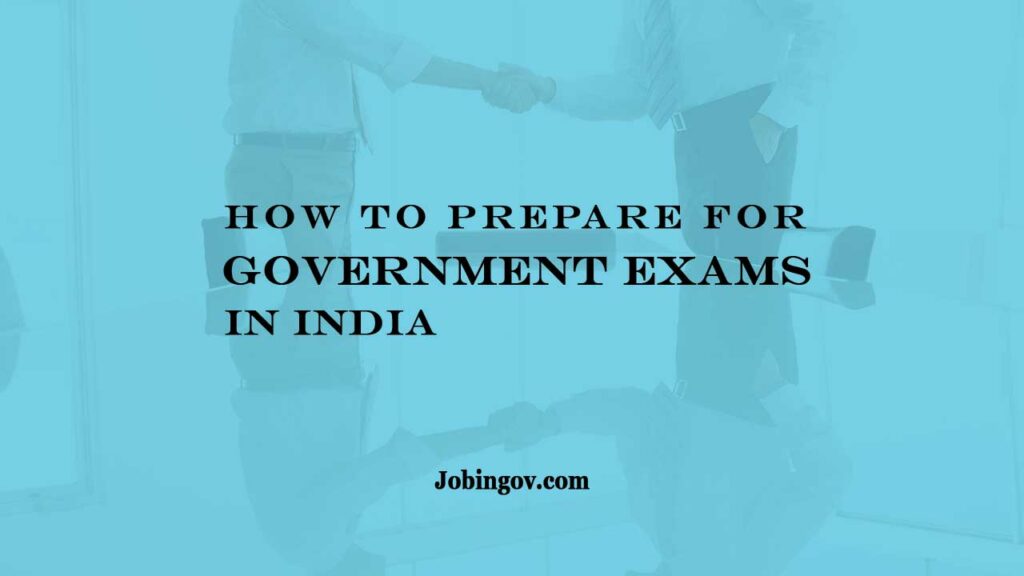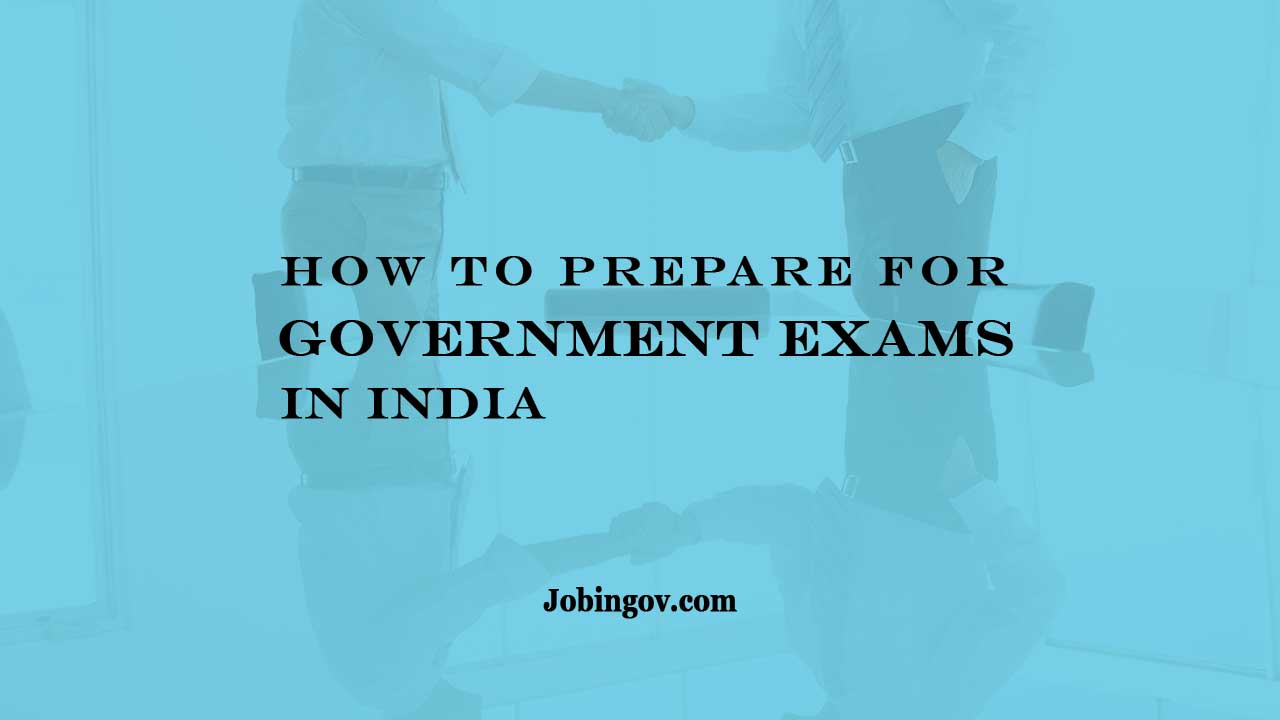 Most of the candidates choose their career in government sectors as it is a secured and thriving career. Competition in government sectors very huge and needs proper preparation.
To crack government exams, you should prepare yourself accordingly and should follow some steps.
Why to Choose Government Exams?
Candidates get confusion when they try to choose their career. Often some candidates confused between Government Exam Preparation or Private Sector Jobs.
Even if opportunities in private sector is vast, candidates choose government jobs as these jobs guarantee of lifetime security.
After completing study candidates are getting engaged for government exams which provides prestige as well as security that is not provided in private jobs.
Recently, most of the graduates, post-graduates, start preparation for government exams. But, the final decision is up to you in which sector you want to see you in future.
Also Read: Highest Paying Jobs in India 2023
How to prepare for Government Exams?
After making your final decision, you have to work hard with a proper plan. To be successful in government exams without coaching, you will have to be conscious about government exams you are willing to start your preparation.
There are some popular government exams you can start your preparation are Staff Selection Commission (SSC), UPSC Civil Service Exam, Banking Exams and Railway Exams.
Steps to Crack Government Exams
At first, you have to know how any government exam can be cracked while you are planning your preparation for government exams.
When you determine to appear in government exams, then you should have a proper plan and strategies which you will follow during preparation. We have mention some points which will help you to prepare for government exams.
You must follow the steps to perform good in government job exams. The most relevant sections of all government exams are Maths, English and General Knowledge which is asked in every exam so prepared well in these sections.
Step 1- Know the Syllabus
Before planning your strategy, you should go through the syllabus in detail. Point out the weak and strong sections. Prepare a list of topics according to preference in which you are weak to strong.
Step 2- Analyze the Exam pattern
Analysis of question paper and its pattern is very important part of your preparation. Once you have proper knowledge of exams pattern, you can now focus on important topics and able to score better.
Step 3- Follow Previous year question paper
Collect previous year question paper and try to solve questions in which you are strong. Result of this attempt show you the level of your preparation and provide you confidence for your further preparation.
Step 4- Prepare Study Plan
After become familiar with syllabus and exam pattern, you should make a plan for weak and strong topics.
Give more attention on the topics in which you are weak.
While you are appearing for mock tests, always be conscious about negative marking.
Time Management is the key to get success in exams.
Step 5- Do Revision regularly
Many students do not give sufficient time for revision which comes out as big mistake for their failure. So, revise the topics studying on a regular basis and make plans for revision.
Step 6- Prepare for Interview
You should be prepared well for interview which is the last and final stage of recruitment. Be confident while you are going to face an interview. Do rehearsal in front of mirror will help you to prepare.
Preparing Notes & Be Self Motivated
While preparing for government exams without coaching it is very important to be self-motivated and your approach should be in the right direction. You should keep some points in your mind.
Analyze the exam pattern and important topics which is asked most in exams.
Make short notes i.e. gist of a full chapter that will help you during exam time for quick revision.
Attempt various mock tests and try to solve previous year question papers to analyze important topics. It will also help you to check your time management.
Get online study material which will more helpful in case you are preparing yourself. You can get online study materials as Online E-Books, PDFs, Question Papers, Mock Tests, Test Series etc.
There are many website and YouTube channel which provides complete online study material to the candidates where you can also have some free test series.
To score better in any government exam, you must be prepared well in four subjects which are General Knowledge, Quantitative Aptitude & Reasoning, English. We have provided some tips for these subjects.
Tips for General Knowledge
Many candidates do not take General Awareness seriously without realizing how much it is important for competitive exams.
If you are seriously taking preparation for competitive exams, then follow the tips we have mention below:
Go through NCERT books of History, Geography, Social Science from class 6 to class 12 and Science from class 6 to class 10.
Follow an English newspaper on a regular basis like Times of India, Hindustan Times, The Hindu etc.
Attempt online mock tests.
Make a notes on most focused topics such as Important Days and Dates, Discoveries & Inventions, List of Bharat Ratna Awardee, Nobel Prize Winners, Countries with their capital and currency, National Parks & Wild Life Sanctuary etc.
Tips for Reasoning
Reasoning is an important part of all competitive exams. In this section, mental strength and judgment skills of candidates are checked. This part is the most scoring and you can answer of these questions with your presence of mind even without pen and paper.
If you practice this section regularly, then you can answer these tricky questions which takes very less time.
First of all, try to answer those questions which are easy to you as it saves your time.
Try to avoid too much tricky questions as there is a chance of getting negative marking.
There are some important topics which you have to study very well such as Number Series, Data Sufficiency, Coding and Decoding, Seating Arrangements, Blood Relations and Directions etc.
Try to attempt online mock tests.
Tips for Quantitative Aptitude
This is also a good scoring section where you can be ahead of others.
To score well in this section, your concepts should be clear.
There are no particular rules to answer these questions.
You are suggested to answer only those questions which you can surely do answer otherwise it there will be too much negative marking.
Important suggested chapters are Data Interpretation, Profit and Loss, Time and Work, Simplification, Simple Interest, Compound Interest, Percentage etc.
Learn Short tricks which will save your time during exam.
Tips for English
This is one of the most important topic and easy to score. You can score good if you practice regularly and develop skills in grammar and vocabulary.
At first, clear your concepts about Tense, Parts of Speech.
Then, learn Synonyms/Antonyms, Cloze.
In the next stage focus on Subject-Verb Agreement, Idioms and Phrases, Participles, Infinitive and Gerund.
Related Article: Best Govt Jobs for Women in India
Exam Day Activities
Be confident while you are entering in the exam hall. Carefully, have a look on the question paper. Try to attempt easy questions at first, then tricky or questions. While attempting tough questions, try those questions which you have more chance to solve.
Avoid those questions which are unknown or difficult to solve to avoid negative marking. Use short tricks where applicable to save your time during exam. Do not be hurry while answering questions.
Conclusion
In the above discussion, we have mention some strategies about few subjects which are in most of the government exams.
To perform well in government exams, you should keep it in your mind the three important things- Planning, Time Management and the last but not least your hard work which will take you to your dream job.