Are you looking for a government job? Every year Staff Selection Commission (SSC) conducts the SSC FCI exam every year to recruit thousands of students for the various posts in Food Corporation of India (FCI).
FCI is considered as one of the largest public sector in India whose main responsibility is to store and supply food grains throughout India. In this article, we have provided important dates, eligibility criteria, syllabus and other important points regarding exam.
About FCI Exam:
The full form of SSC FCI is Staff Selection Commission Food Corporation of India. FCI, which a government organization, mainly supply food grains across the country. A national level of examination is conducted by Staff Selection Commission who wants to work under the various government posts.
Recruitment process of Food Corporation of India is also under the Staff Selection Commission as in the other various examinations. The selected candidates through FCI recruitment exam will get the status of Central Government Civilian Employee as well as a full-time employee of FCI who are regulated by the government rules.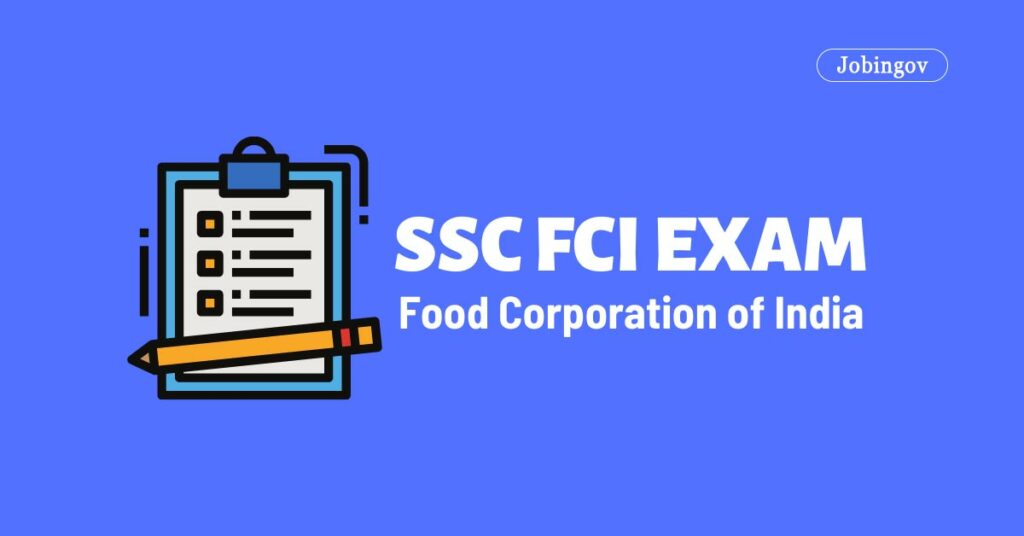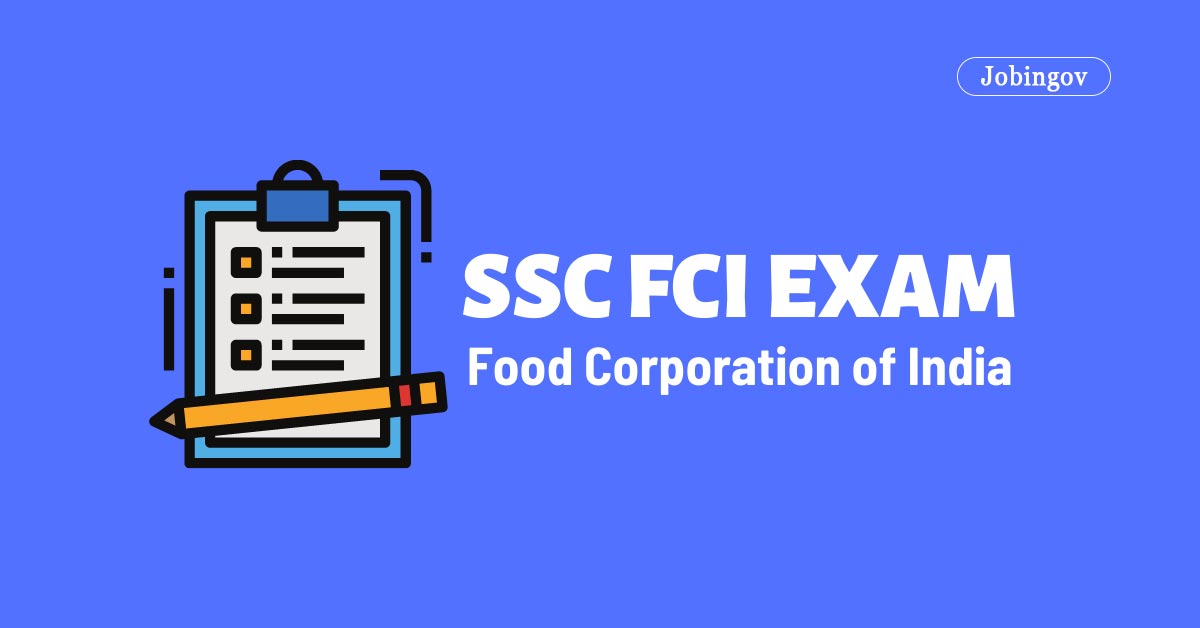 There are two phases of this exam after which document verification will be done. Candidates will not face any interview in this recruitment process.
SSC FCI Exam 2022
Important Points at a Glance
Name of the Exam: Staff Selection Commission Food Corporation of India
Recruiting Agent: Staff Selection Commission (SSC)
Level of the Exam: National
Mode of the Exam: Online
Eligibility Criteria: Undergraduate from any recognized university
Job Location: Anywhere in India
Highlights of FCI Recruitment 2022 Exam
Staff Selection Commission has released notification for the recruitment of many candidates for different posts. It is expected that recruitment process will be start from May and ends in mid-June. The result of this exam will be declared after few weeks of the examination.
Online Application Begins: To be notified
Last Date of Application: To be notified
Release of Admit Card: To be notified
Date of the Exam: To be notified
Declaration of Result: To be notified
Vacancy of FCI 2022 Exam Zone-wise
Approximately 4000+ candidates will be recruited through FCI exam 2021. The total vacancies are divided into five different zones viz. east, west, north, south, and north-eastern zone for different posts.
Zone-wise FCI 2021 vacancies are provided below:
| | |
| --- | --- |
| Zone | Vacancies |
| East | 538 |
| West | 735 |
| North | 1999 |
| South | 540 |
| North-Eastern | 291 |
| Total | 4103 |
Eligibility Criteria for FCI 2022 Exam
Aspired candidates for Food Corporation of India check required eligibility criteria for each and every post before application. Under this recruitment process, you are able to choose various posts. We have given the minimum eligibility criteria for FCI 2022 exam.
Educational Qualification:
We have given a list post and their required criteria to apply for SSC FCI exam but the candidates must have 60% in the Bachelor's/Master's degree:
J.E. (Civil Engineering, Post Code-A): Degree in Civil Engineering or Diploma in Civil Engineering with at least one-year experience.
J.E. (Electrical Engineering, Post Code-B): Degree in electrical engineering or Mechanical Engineering or Diploma in Electrical Engineering or Mechanical Engineering with at least one-year experience for Diploma holders only.
Stenographer Grade-II (Post Code-C): Graduate along with O 'level qualification of DOEACC and speed of 40 words per minute and 80 words per minute in typing and shorthand respectively, or Degree in Computer Science/ Computer Application with the speed of 40 words per minute and 80 words per minute in typing and shorthand respectively.
AG-II (Hindi, Post Code-D):
(i) Get a degree as the main subject from a recognized university.
(ii) Good command in English.
(iii) Minimum of one-year experience of translation from Hindi to English and English to Hindi. Post Graduate in Hindi is desirable.
Typist (Hindi, Post Code-E):
(i) Graduation or equivalent from a recognized university.
(ii)  You must have 30 words per minute speed in Hindi Typing.
(iii)  While preparing merit list Preference will be given to the candidates who has experience and master in bilingual typing (English and Hindi) and Computer knowledge.
AG-III (General, Post Code-F): Graduate in any stream from an authorized board having proficiency in computer operating.
AG-III (Accounts, Post Code-G): Bachelor of Commerce from a recognized University with proficiency in the use of computers.
AG III (Technical, Post Code-H):
(i) B.Sc. in Agriculture from a recognized University or B.Sc. in any of the following streams from a recognized University: Botany/ Zoology/ Bio-Technology/ Bio-Chemistry/ Microbiology/ Food Science or B. Tech/ BE in Food Science/ Food Science and Technology/ Agricultural Engineering/ Bio-Technology from a recognized University/ institution approved by AICTE.
(ii) Comfortable in computer application.
AG-III (Depot, Post Code-I): Graduate Degree in any subject from a recognized University along with comfortable in the use of computers.
Age Limit:
For the post of Assistance of grade, age limit is 27 years, excluding AG II(Hindi).
To apply for AG II(Hindi), maximum age limit is 28 years.
For typist and stenographer, you age must be within 25 years.
In case of Junior Engineer, you are eligible up to 28 years.
There is relaxation of age for certain categories such as: For OBC- 3 years of relaxation and for SC/ST- 5 years of relaxation.
Syllabus of FCI 2022 Exam
There are two papers in the SSC FCI exam i.e. Paper 1 and Paper 2. Paper 1 is common for candidates and in Paper 2 questions are asked from their respective specialization. Generally, Paper 1 included reasoning, numerical aptitude, and the English language.
Detail Syllabus of Paper 1:
(i) Reasoning: Visual Memory, Clocks, Discrimination, Space Visualization, Odd man out, Symbolic/ Number Classification, Analytical Reasoning, Alphanumeric Series, Letter series, Arithmetical Number Series, Relationship Concepts, Figural Classification, Similarities, Coding-Decoding, Shapes and Mirror, Arithmetical Reasoning, Venn diagrams, Non-Verbal Test, Semantic Analogy, Number series, Problem Solving.
(ii) Quantitative aptitude: Average, Number System, Profit and Loss, Time and Distance, Clocks and Calendars, Problems on Trains, Percentages, Ratios and Proportion, H.C.F. and L.C.M, Pipes and Cisterns, Problems on Ages, Data Interpretation, Mixture and Allegation, Boats and Streams, Simple & Compound Interest, Time and Work, Discounts.
(iii) English Language: Para Completion, Error Correction (Underlined Part), Spelling Test, Passage Completion, Sentence Arrangement, Fill in the blanks, Transformation, Sentence Improvement, Joining Sentences, Error Correction (Phrase in Bold), Articles, Gerunds, Identify the Errors, Tense, Synonyms and Antonyms, Prepositions, Active and Passive Voice, Spotting Errors, Substitution, Adjectives, Homophones, Identify the Sentences, Noun, Sentence Completion, Prefix, Sentence Pattern, Tag Questions, Plural Forms, Odd Words, Prepositions, Suffix, Idioms and Phrases.
The Candidates must take preparation of their respective stream for Paper 2.
Exam Pattern of FCI 2022 Recruitment
This exam consists two phases i.e. Phase 1 and Phase 2 where Phase 1 is a common exam for all candidates and questions are asked from different sections.
Paper 1 is of 100 marks with 20 minutes for each section. Questions asked from each section are: Reasoning Ability- 35, Quantitative Aptitude- 35 and English Language- 30.
After paper 1, papers are different according to their posts for which they have applied.
Application Process of FCI 2022 Exam
Candidates should read the eligibility criteria in details for this examination and advised to apply before the last date. You will not be allowed to enter into the exam hall in case you fail to do registration.
How to Apply?
You must follow some simple steps to do successful registration as:
Visit official website of FCI and press the "Apply Online" option.
At first go through the terms and conditions before application. During online application, provide all the required personal and educational information.
After that you have to upload the documents and images of the information you have given in the application form.
Check all the information carefully and complete the payment through online platform, and make final submission by clicking on the "submit" button.
Now, get the printout of conformation page for future.
Application Fee:
Application fee for different categories has been notified in their notification are:
(i) General and OBC: INR 500
(II) SC / ST / PwBD / Serving Defence Personnel / Ex-Serviceman & Women: Exempted form application fee.
Required Documents for Online Application
After providing all the personal and educational details, you have to scan and upload the of the following:
Current Photograph
Signature of the Candidate
Thumb impression of your left hand
A handwritten self-declaration of the candidates on a white paper to be uploaded along with other documents
Issue of Admit Card
You will get admit card from the official website released by SSC. In the admit card roll number, particulars along with the venue of exam centre will be provided. You will have to carry the admit card and a valid photograph to the examination centre along with you otherwise not be allowed to enter the examination hall. You can download online form their official website(www.fci.gov.in).
How to Download Admit Card?
You can easily download the admit card following some simple steps:
Visit the official website of SCC.
Click on the "Download Admit Card" option.
You need to provide certain information such as registration number, DOB and the one-time verification code.
Admit card will be displayed on the screen.
Get one copy printout of your Admit card.
Exam Centres of FCI 2022 Exam
Centre for FCI recruitment exam is allotted across India at 102 centres in different parts of India. You are not able to change the examination centre once it is allotted. You are requested to reach the examination centre at least before half an hour of the schedule time of the examination.
Result of the Exam FCI 2022
Candidates can expect that the result of the FCI 2022 will be published on August or September month. You can get the result on the official website of SSC. For every zone, result will be released separately. Successful candidates of Tier 1 will be allowed for Phase II examination and the admit card of this phase will be released 15 days before the day of examination.
How to Check the result of FCI 2022 exam?
With some simple steps, you can get the result:
Browse the official website provided by SSC.
Click on the "result" option.
Provide the required information.
Check your name or registration number in the merit list.
Candidates enlisted in the merit list are eligible for the next phase.
Previous years Cut-off of FCI Exam
The cut-off of SSC FCI varies every year depending upon the three factors: the number of applicant of the exam, the level of difficulty of the examination, and number of vacancies of the respective post. In 2018 SSC FCI exam cut-off was for General – 75, SC – 65, ST- 62, OBC- 72.
Salary of FCI of different Posts
Pay scale for different post of FCI has been announced as: Junior Engineer (Electrical Engineering)- INR 11100- INR 29950, Junior Engineer (Mechanical Engineering)- INR 11100- INR 29950, Junior Engineer (Civil Engineering)- INR 11100- INR 29950, Typist (Hindi)- INR 9300 – INR 22940, Assistant Grade-II (Hindi)- INR 9900 – INR 25530, Assistant Grade-III (General)- INR 9300 – INR 22940, Assistant Grade-III (Technical)- INR 9300 – INR 22940, Assistant Grade-III (Accounts)- INR 9300 – INR 22940, Assistant Grade-III (Depot)- INR 9300 – INR 22940.
Preparation Tips for SSC FCI Exam
To be successful in any exam, you need to some certain tips which will help to get success SSC FCI exam.
Get the syllabus and study it thoroughly.
Point out the important topic that are asked every year frequently.
Give priority to the important topics first and then to the other topics.
Take the easy topics at the beginning, after that study the comparatively tougher topics because if you take the difficult topics first, it will be tougher for you to understand that will demotivate you.
Prepare a study plan in such a way that every subjects can be revised regularly.
After completing each topic, practice related previous year questions and attempt mock tests.
Monitor your preparation through this mock tests and give more emphasis on the weak areas.
Provide enough time on how to manage time during examination.
Try to avoid guess of any question as it may result wrong answer and finally it may cause negative marking.
If you follow this tips during examination, surely it will increase you score in the examination and guide you to the right path. You are requested to prepare study plan first and then work on it with full determination.
More SSC Exam:
SSC FCI Exam 2022: FAQs
Q1. Can anyone eligible to apply for more than one post?
Ans: No, candidates are not eligible to apply for more than one posts.
Q2. Can centre of the exam be changed?
Ans: Centre o the examination cannot be changed once fixed.
Q3. Can any candidates get any type of age relaxation during application?
Ans: Yes, there are certain categories such as OBC, SC, ST which get some age relaxation. The age relaxation for OBC- 3 years, SC/ST- years.
Q4. What is the application fee for women?
Ans: Women are exempted from application fee i.e. they don't need to make any payment.