SSC CGL Preparation Tips: The Staff Selection Commission (SSC) recruits candidates for different posts in Group B and Group C through online examination. It is a national level exam.
First, you should know the eligibility criteria for this examination. Whether you are eligible for this examination or not. Have a quick look on eligibility criteria below.
SSC CGL Preparation Strategies 2021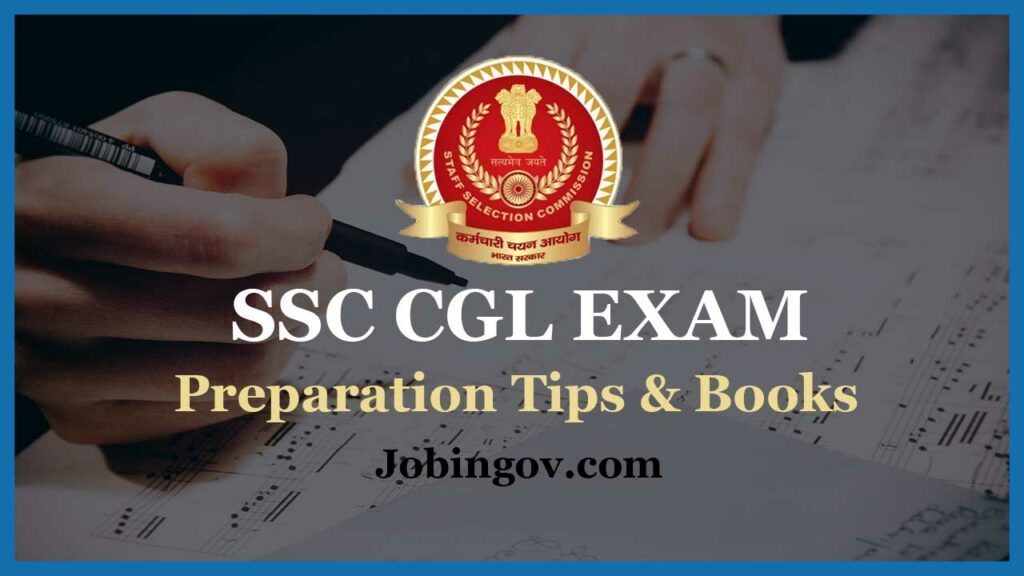 SSC CGL Eligibility Criteria
Age Limit:
The age limit for various posts under SSC CGL has been categorized into 5 groups, which are mentioned in the below table:
| | | |
| --- | --- | --- |
| Sl No. | Age Limit | Remarks |
| 1 | 18 to 27 years | Candidates must have been born not earlier than 2nd January 1993 and not later than 1st January 2002. |
| 2 | 20 to 27 years | Candidates must have been born not earlier than 2nd January 1993 and not later than 1st January 2000. |
| 3 | 20 to 30 years | Candidates must have been born not earlier than 2nd January 1990 and not later than 1st January 2000. |
| 4 | Up to 30 years | Candidates must have been born not earlier than 2nd January 1990 and not later than 1st January 2002. |
| 5 | Up to 32 years | Candidates must have been born not earlier than 2nd January 1988 and not later than 1st January 2002. |
Age Relaxation:
| | | |
| --- | --- | --- |
| Sl No. | Category | Relaxation |
| 1 | SC/ST | 5 years |
| 2 | OBC | 3 years |
| 3 | PH | 10 years |
| 4 | PH+OBC | 13 years |
| 5 | PH+SC/ST | 15 years |
Educational Qualification:
Candidates must have completed Graduation degree. The essential educational qualifications for SSC CGL are given below according to posts:
Post Name
Qualification
Statistical Investigator Grade II

Bachelor's Degree at least 60% in Mathematics at Higher Secondary (12th or equivalent) level.
Any Bachelor's Degree from recognized University or Institute with Statistics as one of the subjects at degree level.

Assistant Audit Officer

Bachelor's Degree from a recognized University.

Desirable Qualifications: Cost & Management Accountant / Chartered Accountant / Company Secretary /Masters in Commerce/Business Studies/Business Administration (Finance)/ Business Economics.

Compiler

Bachelor's Degree from any recognized University or Institution.
Must have studied either Economics or Statistics or Mathematics as a compulsory or elective subject.

Assistant Section Officer

Bachelor's Degree from a recognized University or Institute.
Here, we will discuss about the SSC CGL Preparation tips, strategies, and related books & syllabus.
Many of the candidates think that they cannot crack SSC CGL as they are unable to take coaching, may be due lack of money or he /she is living in a remote area. This is old dated thinking and candidates are more smart. Depending on any coaching center is just waste of money.
Nowadays, candidates are also not depending on anyone to meet his goal. They have the confidence that they can crack the examination himself.
To get success commitment, proper planning, smart study & hard work is the keys of it. It is a multi-tier examination which follows four tiers viz. Tier-I, Tier-II, Tier-III and Tier-IV. Overall view of the examination is shown below:
Sl. No.
Tire
Type of Exam
Mode of Exam
Marks
Time
1
Tire-I
Objective Multiple Choice
Online
200

60 minutes

2
Tire-II
Objective Multiple Choice
Online
Paper I – 100
Paper II – 200
Paper III – 100
Paper IV – 100

60 minutes for each paper

3
Tire-III
Descriptive Paper in English or Hindi
Pen and Paper
–
60 minutes
4
Tire-IV
Skill Test: Data Entry Speed Test (DEST)/ Computer Proficiency Test (CPT) & Document Verification
Skill test
–
–
First of all, aspirants need to get the syllabus from authentic source and go through it. It gives an idea of what should be studied. Point out the major portions which are being repeated or given emphasis.
There are lots of books available in market, chose the preferable ones. Some books are suggested; aspirants can follow this.
Sl. No.
Subject
Books
1
English

Objective General English by SP Bakshi (Arihant)
From Plinth to Paramount- Neetu Singh
A Mirror of common Errors- Dr. Ashok Kumar Singh

2
Mathematics

Advance Maths by Rakesh Yadav
Magical Book on Quicker Maths by M Tyra
Quantitative Aptitude by Dr. R.S Agarwal (Freshers should follow this book first)

3
Reasoning

Modern Approach to Verbal & Non-Verbal Reasoning by Dr R.S. Aggarwal
Analytical Reasoning by M.K. Pandey
How to Prepare for Logical Reasoning by Arun Sharma

4
General Awareness

NCERT Books of Class X, XII- History, Geography, Economics
Manorama Yearbook
General Knowledge- Lucent Publication
After well acquainted with examination, syllabus and books now it is time make a timetable. It is important to have an effective timetable. Give enough time to every subjects, specially on those subjects you feeling weak.
Click Here to Check SSC CGL Salary
Tire I Exam
This is an objective type examination which is conducted online having 100 questions in different four sections (each section comprised 25 questions) of 200 marks. Every question carries 2 marks. For every 2 wrong answer 1 marks will be deducted.
Note: 0.5 number will be deducted for every wrong attempt or we can say another way 1 number will be minus for every two wrong attempt. A sample calculation is done here for better understanding:
Total no of questions = 100
Number provided for every question = 2
Suppose, you attempt 70 questions. In which 50 questions are right attempts and rest 20 questions are wrong attempts.
50 right attempts questions = 50 * 2 = 100
For, wrong attempt questions numbers deducted = 20 * 0.5 = 10
Now, number gained by you = 100 – 10 = 90
So, Final number obtained by candidate = 90 marks
We will discuss important topics, study plan, strategy which will boost your preparation. Tier I, section wise details are provided below:
Sl. No.
Section
Marks
1
Quantitative Aptitude
25
2
English Language and Comprehension
25
3
General Intelligence & Reasoning
25
4
General Awareness
25
Grand Total
100
Quantitative Aptitude:
This is a vital subject as it may decide your rank in the merit list. Knowledge about Basic concepts and formulas of Mathematics are the prominent sections in this subject. Having a sound knowledge up to 10th standard is enough to solve questions. Moderate level of questions is expected to be asked.
Topics
Focused Portions
Arithmetic (48%)
Ratio & Proportion, numbers, decimals, fractions and relationships between numbers, Percentage. Square roots, Averages, Interest, Profit and Loss, Discount, Partnership Business, Mixture and Alligation, Time and distance, Time & Work, Basic algebraic identities, geometrical problems, etc.
Data Interpretation (20%)
Geometry and Mensuration (16%)
Trigonometry (8%)
Algebra (8%)
English Language and Comprehension:
English Grammar Rules, Vocabulary and good comprehension Skill help your score better.
Important Topics
To be focused on
Tips to be followed

Vocabulary Usage (48%) Grammar Usage (32%) Reading Comprehension (20%)

Sentence Improvement, Reading comprehension, Spotting Errors, Synonym/Antonym, One-word substitution, Idioms/Phrases, Spelling Mistakes, Fill in the blank.

Understand the concept of the topics.
Make habit of reading English Newspaper, Magazine etc.
Do practice on daily basis.
Take a test of yourself once in the interval of 3-4 days.
General Intelligence & Reasoning:
It is a most discussed and scoring subject as you can solve it even without pen and paper by thinking. You don't need to memories too many formulas. You can solve it by applying your common sense. For this you must practice as many kinds of questions as you can at least once a day and make understanding better.
It would include questions of both verbal (66%) and non-verbal (34%) type. This component may include questions on analogies, analysis, arithmetical reasoning and figural classification, arithmetic number series, similarities and differences, space visualization, spatial orientation, problem solving, visual memory, judgment, decision making, discrimination, observation, relationship concepts, non-verbal series, coding and decoding, statement conclusion, syllogistic reasoning etc.
General Awareness:
This section is a high scoring and also consume less time than other sections. Knowledge about Current Affairs and General Awareness are tested here. The topic include in this section are General Science (40%), Static GK (40%), Current Affairs (10%), and Miscellaneous (10%).
In this section, candidates must be focused on Biology, Physics, Chemistry, History, Culture, Geography, Economic Scene, General Policy & Scientific Research, National Schemes, Computers, Book Names and Authors, Logical Analysis, Important Days, recent development in Sports, Awards, Politics, International happening, etc.
Magazines, Newspapers, YouTube, Online Blogs are important source for current affairs. Create a gist of every topic in a lucid manner. Frequent revision is the key thing to remember points. Give more emphasis on weakness on which portions you feel.
Tire II Exam
This is the 2nd stage of recruitment process. Syllabus of Tier II is a complex one. Candidates need to have proper strategy to make their preparation perfect.
Paper
Topics
Focused Chapters
Paper I
Quantitative Abilities
Numbers, Decimals, fractions and relationships between numbers, Percentage, Ratio & Proportion, Square roots, Averages, Interest, Profit and Loss, Discount, distance, surds, Graphs of Linear Equations, Complementary angles, Heights and Distances, Histogram, Frequency polygon, Bar diagram & Pie chart, etc.
Paper II
English Language and Comprehension
spotting the error, fill in the blanks, synonyms, antonyms, spelling/ detecting misspelled words, idioms & phrases, one word substitution, active/ passive voice of verbs, conversion into direct/ indirect narration, shuffling of sentence parts, shuffling of sentences in a passage, etc.
Paper III
Statistics
Collection and Representation of data, Skewness & kurtosis, Measures of Central Tendency, correlation & regression, Probability Theory, time series analysis, Index numbers, etc.
Paper IV
General Studies-Finance and Economics
Part A (Finance & Accounts): Rectification of Errors, Manufacturing, Trading, Profit & loss Appropriation Accounts, Balance Sheet Distinction between Capital and Revenue Expenditure, Depreciation Accounting, Valuation of Inventories, Non-profit organizations Accounts, Receipts and Payments and Income & Expenditure Accounts, Bills of Exchange, Self-Balancing Ledgers, etc.
Part B (Economics and Governance): Money & Banking, Economic reforms, Theory of demand and supply, Economics- Micro & macro, Market supply analysis, etc.
In this stage, syllabus is huge and lots of subjects are also there. Time management play a major role in this stage. Enough time should be given for each and every important topic. Do revision on regular interval basis. A neat and clean well organized notes should be prepared so that it is easy for the aspirants to revise quickly. Give online tests and build up your ability to solve questions in given time.
Tire III Exam
This stage consists subjective papers. It has social topics like Globalization, Poverty, Domestic Violence etc. It is considered as the easiest tier among all tiers. It doesn't take much time to prepare you for examination. Though it is the easiest tier you should do practice daily. Candidates can attempt this exam in either Hindi or English. Do practice applications, letters, essays, etc.
Tire IV Exam
This exam is totally different from other three tiers. It is related to computer and typing. You need to practice for 2000 key depression in 15 minutes for "Data Entry Speed Test" skill. After the publication of final merit list, your post will be decided according to your rank.
Thank you for reading this article. We hope this article will help you for SSC CGL Preparation and important books. If you have any questions, please ping us through the comment. For any latest update about SSC CGL, you can subscribe Jobingov. Also, you can follow us on Facebook to get the instant latest news.