Generally, four types of bank account were available but now with the advancements few other types of bank accounts are introduced in India. There are basically two types of bank account, which are:
Demand Deposits (CASA)
Term Deposits (RAFA)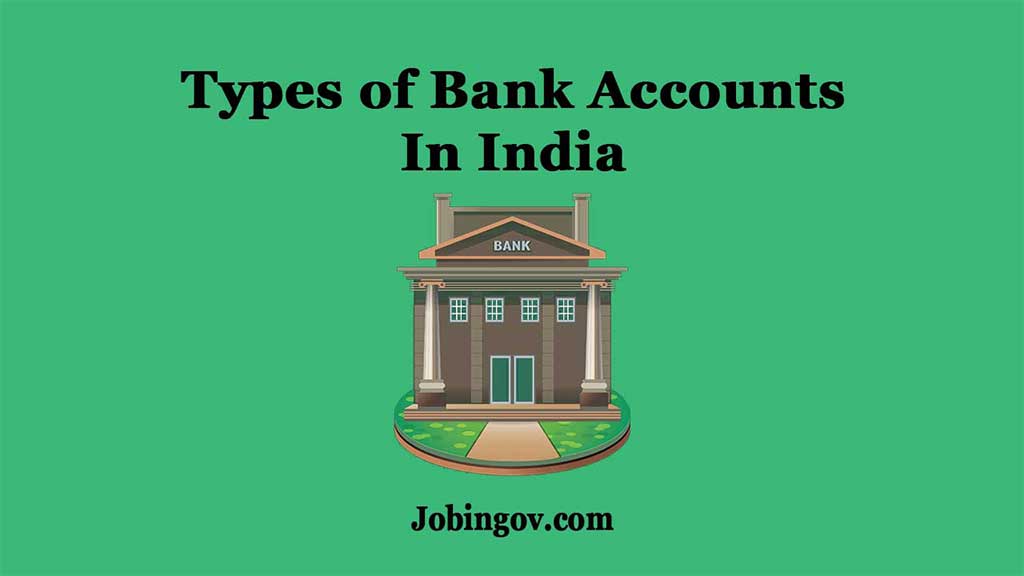 Different Types of Bank Accounts in India
1. Demand Deposits
When a customer wants to open Demand Deposit bank account, they have two options in their hands. One is saving account and the other is current account. In Demand Deposit account customer can use their money whenever they required and maintains liquidity.
There are two types of Demand Deposit account viz. Saving Account, Current Account.
Savings Account
This type of account is used mainly for saving purpose.
Savings Account can be open single individual or jointly. It has found that salaried employees, pensioners and students save their earnings using this account.
Bank pays certain interest against your savings according to current interest rates and varies bank to bank.
As it is a demand deposit account, so account holders can withdraw their savings as and when they wishes.
Rate of interest varies from 4% to 6% per annum in India.
Account holders are allowed to deposit any amount they wishes with any number of time they wants to deposit.
But, in case of withdrawals they are facing some restrictions.
There are certain minimum amount which you have to maintain with your savings account to function properly. It is different in different areas.
Also Read: Different Types of Banks in India
Regular Savings Account
To open this type of bank accounts any individual, two or more persons jointly, associations, clubs etc. can apply.
Loan facilities is also available for this type of savings account holders.
Account holders can avail two free cheque books per year.
At free of cost, internet banking facilities is provided to its customers.
You will get different banking services such as balance enquiry, NEFT, Bill Payment, Mobile Recharge etc. using your mobile phones.
Students are allowed to open Zero balance account by submitting the documents sought by banks.
Basic Savings Bank Deposit Account (BSBDA)
It is started in 2012.
In this type of bank accounts, it is not mandatory to maintain any certain minimum balance.
Banking services such as ATM Card /ATM Cum Debit Card, RuPay Card is provided to the account holders.
Especially for students, laborers, women who doesn't have any source of income or income is very low are eligible to open BSBDA.
Customer must have age above 10 years to open this account.
Withdrawals and transactions should not exceed Rs. 10000 per year.
Also Read: What is INR and its full form?
Basic Savings Bank Deposit Account Small Scheme (BSBDS)
This type of bank accounts functions same as BSBDA but BSBDS bank account is open in the name of any scheme such as Jan Dhan accounts which comes under BSBDS.
The facilities you will be provided in normal savings account, the same is provided in this type of bank accounts.
You need not to maintain minimum balance.
Customer's credit should not be over than Rs 1 lakhs per year.
Customers are allowed to open this type of bank accounts for 12 months but anyone can extend it further by submitting required documents.
Frill Account
In this type of bank accounts, customers can maintain 'nil' or very low minimum balance. Especially economically weaker section of society was allowed to open Frill Account. But now, in present, all the Frill Account are converted into BSBDA.
Current Account
Current Account is opened by any individual, two or more persons jointly, associations, limited companies, Educational Institutions Religious Institutions, Certified Institutions, Clubs etc.
Over Draft (OD) facilities is provided.
Customers can do transactions for any number of times. Customers can remit funds across the country.
Facility of Internet banking is available.
2. Term Deposit
In term deposit, customers can withdraw their deposits after a certain time. The interest rate is comparatively higher than savings account. The customer will get interest which is predetermined on term deposits which is for specified period.
The longer your deposits will be the higher will be the interest rates.
In current accounts there are two types of bank accounts (A) Recurring Deposit Account, (B) Fixed Deposit Account.
Recurring Deposit Account:
The eligible person to open this type of bank accounts are individual single account, two or more jointly, Associations, Institutions, Clubs etc.
Recurring Deposit account is for those who wants to save money regularly and earn a high rate of interest against it.
Payment can be made Monthly /Periodically which starts from a minimum of Rs 50.
At the time of opening this account, number of installments made fixed which will not be alter changed in future before maturity.
The period of deposit is between 6 months to 12 months or ten years.
Fixed interest will be compounded quarterly.
Fixed Deposit Account:
Fixed deposit can be made for 7 days to 10 years.
Fixed deposit are of two types that are (i) Short Deposit Receipt and (ii) Fixed Deposit Receipt.
(i) Short Deposit Receipt
When duration of your deposits is for 7 – 179 days then it is classified as Short Deposit Receipt.
Under this scheme a minimum of Rs 5 Lakhs can be deposited for 7-14 days.
(ii) Fixed Deposit Receipt
When your deposit is for more than 179 days to 10 years termed as Fixed Deposit Receipt.
For Metro and Urban branches minimum of Rs 10000 and for rural, semi urban and senior citizen's minimum of Rs. 5000 will be the Fixed Deposit Receipt.
Customers can withdraw their deposits before its maturity with some conditions.
Rate of interest is different for different banks.
For senior citizens an extra 0.50% interest is offered if the deposit is for a year or above.
3. DMAT Account
DMAT account is mainly used by shareholders in share market which is used to conduct stress free transactions.
DMAT account stands for Dematerialization account.
Dematerialization is an electronic form of shareholding.
DMAT account can be opened by an individual, Foreign Institutional Investors, Financial Institutions, Mutual Funds etc.
4. NRI Account
NRI Account stands for Non Resident Indian Account.
This account is especially for those who are staying outside India but wanted to save their money in Indian banks.
There are mainly four types of NRI Account, these are:
(i) NRO (Non Resident Ordinary) Rupees Account:
In this type of account, a person living outside India, but getting income from India, such kind of account which is maintained in India is known as NRO Account.
(ii) NRE (Non Resident External) Rupees Account:
Person living outside India and earn income from outside India also can maintain this type of account.
In 1970, NRE Account was introduced.
External money will automatically convert in Rupees.
(iii) FCNR (Foreign Currency Non Resident) Account:
FCNR Account is for those who wants to save their money in foreign currency.
This type of account can be open in Term Deposit only.
In 1993, FCNR was first introduced.
(iv) RFC (Resident Foreign Currency) Account:
When an NRI or foreigner wants to save their money in foreign currency then this type of account is maintained.
The account can be opened as Savings account as well as Term Deposit account.
5. Nostro Account
In Nostro account, Indian banks opens their bank account in foreign banks.
Money is saved in foreign currency. For example, SBI Bank open an account in American bank in US Dollars.
6. Vostro Account
When foreign banks open their account in India banks and maintain their savings as Indian currency, then it is a Vostro Account.
7. Loro Account
When an Indian bank wants to send money in foreign bank but don't have any account then they will take help of other India bank which already have account in foreign bank is known as Loro Account.
8. Escrow Account
When transactions are made through third party on a temporary basis is known as Escrow Account.
Related Articles: Indian Financial System 2022
Hopefully, this post will help you to know the types of bank accounts in India. You can also follow us on Facebook & Twitter.
Types of Bank Accounts FAQs
Q1. What are the basic accounts in India?
Ans: There are four basic type of account in India such as Savings account, Current account, Recurring Deposit Account, Fixed Deposit Account.
Q2. When BSBDA was started?
Ans: In 2012, the BSBDA was started.
Q3. What are the monthly transactions limit for BSBDA account holders?
Ans: BSBDA  account holders can do transactions of Rs 10000 per month.
Q4. Overdraft (OD) facilities is available for which type of bank account?
Ans: Overdraft (OD) is available for Current account holders.
Q5. On which type of account we can deposit money in installments?
Ans: In Recurring Deposit Account, customers can deposit their money in installments.
Q6. What is the full form of DMAT?
Ans: The full form of DMAT is Dematerialization.