How to Become a Chartered Accountant 2023? Now a days students as well as their parents are more concerned about career.
If we go 10-15 years ago, we can see, there were not much options in their selection of career compared to present scenario. When candidates are in class 12, they are facing some difficulties such as stress of board exam and about their career after 12 board exam.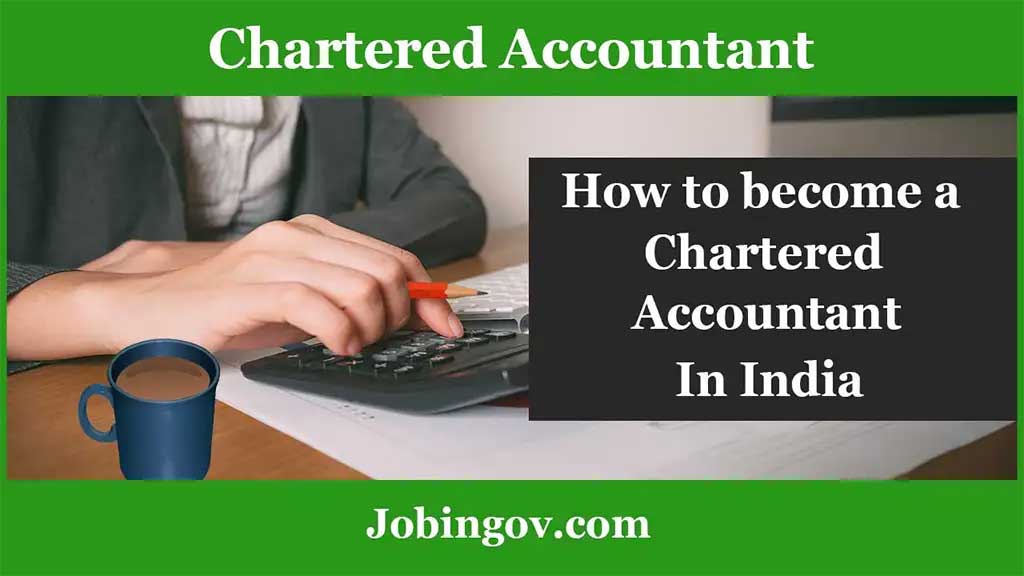 Also Read: Best Courses After 12th Commerce
Most of the students belongs to rural area and doesn't have clear picture about their future. Also they don't have sufficient information to plan their career. This leads to opt for multiple choices as their career before settled in a particular one.
Chartered Accountant is one of such options which a student can choose as a career. In this article we will try to make it clear and discuss pathway for Chartered Accountant aspirants.
Before proceeding further, We will do a short discussion what a Chartered Accountant does?
A CA mainly dealing with the following matters:
Audit account and assurance
Financial Reporting
Taxation
Offer advisory services to clients
Apart from this, CA can work in a company as part of Chartered Accountancy firms or can starts his own firm.
Also Read: Best Courses After 12th Arts
How to become a Chartered Accountant?
After 12th board exam, if anyone wants to be a CA, they are eligible. This is not a matter of concern whether he is from arts or science.
Way to Chartered Accountant:
There are 4 steps which a Chartered Accountant aspirant have to clear successfully. These steps are as follows:
CA Foundation
CA Intermediate
3 year Articleship
CA Final
CA Foundation
If you have any plan to pursue Chartered Accountant after 12th then you have to appear in the CA Foundation exam. This examination is taken twice in a year in the month of May and November.
If anyone wants to sit for examination in May, he must register in December and for November do register in June respectively. You will get 4 months after registration to prepare.
It is a basic level examination which is very much similar to higher secondary of Commerce.
Eligibility Criteria:
Minimum eligibility required for CA Foundation exam is to pass 12th with the percentage of 33% in any stream ( Science, Arts, Commerce).
Fees:
A total of 11300 to be paid for examination fee, registration fee, form fee, journal of members and students.
Exam Pattern:
Syllabus of this examination is divided into four subjects.
Paper
Subject
Part
Type
Marks
Paper 1
Principles and Practices of Accounting
NA
Subjective
100
Paper 2
Mercantile Law and General English
Mercantile Law
Subjective
100
General English
Paper 3
Business Mathematics and Logical Reasoning & Statistics
Business Mathematics and Logical Reasoning
Objective
100
Business Statistics
Paper 4
Business Economics & Business and Commercial Knowledge
Business Economics
Objective
100
Business and Commercial Knowledge
The exam pattern is of subjective as well as objective. To be eligible for CA Intermediate you have to score a minimum of 40% in each subject or 50% overall. Paper 1 is basically have fundamental knowledge if you work hard you will score better. This paper will help you to improve your aggregate percentage.
In Paper 2, both the parts are scoring. Mercantile Law is a new topic but is conceptual and easy to understand and need presentation skill as well.
The third paper is objective type. If you have good concept about math you can score higher in this paper. This paper has three sections viz. Business Mathematics (40 Marks), Logical Reasoning (20 Marks), Business Statistics (40 Marks).
Where is Maths, there is calculation but don't worry 12 digits calculator is allowed. No doubt, Maths and Logical Reasoning is a scoring subject. Learn some calculation tricks and short-cut formulas to solve as much questions as possible.
The fourth paper is based on Business Economics & Business and Commercial Knowledge. Commerce students has advantage in this paper. Students other than commerce need to give effort more than commerce students.
Click Here to Read: Highest Paying Jobs in India 2023
CA Intermediate
After successfully qualifying in the CA Foundation, you can apply for CA Intermediate. Even graduates or postgraduates are can directly enter to the CA Intermediate without appearing CA Foundation.
The registration process is going on in the month of March for the exam which is held in the month of November and for the month of May registration is taken place in the month of September.
Once you have done your registration it is valid for 4 years with the number of 8 attempts.
You have approximately 9 months in your hand to get prepared. This is a very challenging level as the syllabus is very vast. Many of the students takes more than one attempts to clear this level due to lack of proper strategy. If you work hard and manage to clear this exam in the very first of your attempt, you will get a rank.
Exam Pattern:
Group
Paper
Parts
Marks
Group 1
Paper 1 (Accounting)
NA
100
Paper 2 (Corporate Laws & Other Laws)
Part I (Company Law)
60
Part II (Other Law)
40
Paper 3 (Cost & Management Accounting)
NA
100
Paper 4 (Taxation)
Section A (Income tax Law)
60
Section B(Indirect Taxes)
40
Group 2
Paper 5 (Advanced Accounting)
NA
100
Paper 6 (Auditing & Assurance)
NA
100
Paper 7 (Enterprise Information Systems & Strategic Management)
Part I  (Enterprise Information System)
50
Part II (Strategic Management)
50
Paper 8 (Financial Management and Economics for finance)
Part I (Financial Management)
60
Part II (Economics of Finance)
40
After clearing one of the two groups you have to undergo through a 4 week training which is based on information technology and communication skills, also known as ICITSS.
Successful candidates are eligible for the next level.
Articleship Training
After a successful attempts in the previous two stages you can enroll yourself in the 3 years of mandatory training or Articleship. You will get a stipend during this training period.
After completing 2.5 years of your training you become eligible for the registration of CA Final. You can appear for this examination by filling the application from.
At the end of 3 years of articleship, may register for Assessment tests and have the test in any upcoming quarter of registration. You need to complete a training of 4 weeks of GMC's and advanced ITT.
If you are planning for articleship after clearing only one group this will be tough for you to clear the next group. Hence, you are advised to clear both the group then go for the articleship training.
After the articleship training you will face difficulties for getting job.
CA Final
This is the final step of a Chartered Accountant's journey and the toughest level of all . You can enroll yourself for CA final after successfully completing the previous stages. ICAI wants that every candidate have knowledge of every topics which is in the course. When you expertise in each and every subject then you will able to clear this examination.
This is very challenging for a CA aspirants to manage studies alone with office work. Reason for low percentage of successful candidates in the CA Final is the lack of proper strategy and time management. Revision is the key thing to achieve success in this type of exam.
| | |
| --- | --- |
| Paper | Subject |
| Paper 1 | Financial Reporting |
| Paper 2 | Strategic Financial Management |
| Paper 3 | Advanced Auditing and Professional Ethics |
| Paper 4 | Corporate and Economic Laws |
| Paper 5 | Strategic Cost Management and Performance Evaluation |
| Paper 6A | Risk Management |
| Paper 6B | Financial Services and Capital Markets |
| Paper 6C | International Taxation |
| Paper 6D | Economic Laws |
| Paper 6E | Global Financial Reporting Standards |
| Paper 6F | Multidisciplinary Case Study |
| Paper 7 | Direct Tax Laws and International Taxation |
| Paper 8 | Indirect Tax Laws |
Click Here to Read: Chartered Accountant Salary in India
Completing all the groups and 3 years of mandatory articleship training including 4 weeks of AICITSS you will become a part of ICAI family.
We are hopeful that it is useful to you and you find most of your answer in this article. Have a good luck for your journey to fulfill your dream.
If you like this article then share with your friends on social media. You can follow us on Facebook for any latest update.